BandWagon Presents
with
SOJA
,
Tribal Seeds
,
The Elovaters
Tue,
Aug 9
@ 6:00 pm
(Doors:

5:30 pm

)
The Chinook at Terry Bison Ranch
All Ages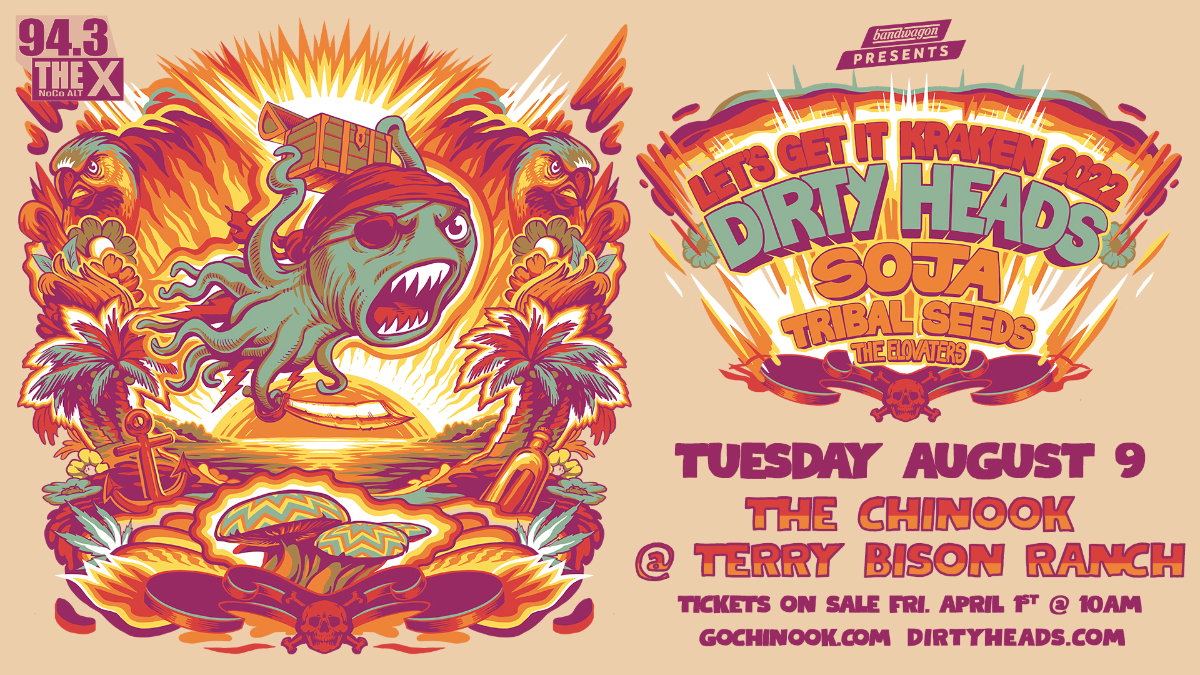 Dirty Heads
Following in the footsteps of their California brothers Sublime, Huntington Beach's Dirty Heads mix hip-hop, reggae, and rock along with that laid-back So Cal attitude. The group formed in 2003 when punk rocker Dustin Bushnell (aka Duddy B) asked his friend, rapper Jared Watson (aka Dirty J), to collaborate on a project that would focus on positive vibes and infectious grooves. Watson added singing to his vocal skills, and with percussionist Jon Olazabal, an acoustic trio version of Dirty Heads began playing shows and building an audience.
They soon hooked up with producer Rob Cavallo and headed into the studio to record their debut album for Warner Bros., but differences with the label had them looking for other opportunities. Still, the band was able to retain most of its work, including sessions with drummer Josh Freese, along with the late-Beatles collaborator Billy Preston in one of the keyboardist's last recordings. The finished album, Any Port in a Storm, would arrive in 2008, with a deluxe edition following in 2010. The deluxe version featured the track "Lay Me Down" with special guest Rome Ramirez of Sublime with Rome. The song would top Billboard's Alternative Songs chart just before the summer of 2010.
They followed up two years later with Cabin by the Sea and later recorded an acoustic version of the title track. This, in turn, led to an entire acoustic album in 2013 called Home: Phantoms of Summer. Dirty Heads' next album, Sound of Change, would prove to be a breakthrough for the now-veteran band, debuting at number eight on the Billboard Top 200 while topping the Independent and Alternative Albums charts upon its May 2014 release.
Building on their renewed success, Dirty Heads enlisted a bevy of industry hitmakers to work on their self-titled 2016 follow-up, which -- thanks to its mainstream appeal -- again charted high on the Billboard Top 200. The following year saw the band drop its sixth studio album, Swim Team, featuring the singles "Vacation" and "Staloney." Also included on the album was the track "So Glad You Made It," featuring 311's Nick Hexum. The single "Listen to Me" arrived in early 2019 and was later included on Dirty Heads' Dave Cobb-produced seventh album Super Moon.
Tribal Seeds
From San Diego, California, awardwinning reggae group Tribal Seeds have become known for
their spiritually driven, refreshing rock vibe they have infused with the roots style of reggae
music. Originally started by two brothers, Steven Rene Jacobo (lyrics, vocals, guitar) and
TonyRay Jacobo (producer, keyboards, vocals). Tribal Seeds now boasts six members,
including: Carlos Verdugo (drums), Victor Navarro (bass), E.N Young (keyboards, vocals) &
Ryan Gonzo (guitar, vocals).
Tribal Seeds' unmatched musical talent and authentic sound has brought them to the forefront of
the reggae rock genre, as their art form has reached people of all ages across the United States,
and worldwide. The band's debut, self titled album "Tribal Seeds" was released in 2008 with their
second album "The Harvest" following, June of 2009. iTunes named both albums "Best Of" in the
Reggae genre, for their respected years. Their debut album helped garner them the "Best World
Music" title at the San Diego Music Awards in 2008, and "The Harvest," which contained fourteen
new and original songs, debuted at the number 5 spot on the Billboard Reggae Charts. The
tracks, written and produced by Tribal Seeds, were recorded and mixed by Alan Sanderson at
Signature Sound Studios in San Diego, and mastered by Erik Lobson at Universal Mastering.
In 2011, Tribal Seeds gave listeners a brand new EP entitled "Soundwaves," which peaked at
number 2 on the Billboard Reggae Charts. The band notes that the album was inspired by their
life experiences, being on tour, and their desire to inspire youth to raise their voices and seek a
higher consciousness.
On May 13, 2014 Tribal Seeds released their highly anticipated fourth album, Representing. The
new album debuted at Number 1 on the Billboard, iTunes & Amazon Reggae Charts and
cracked the Top Billboard 200 at Number 114. The new album is sure to not only reaffirm but
solidify their pioneering classic blend of Roots and new era RockReggae.
The album brings you 12 original recordings and features some of the genres favorite stars: Don Carlos, Mykal Rose,
Kyle McDonald (Slightly Stoopid), Vaughn Benjamin (Midnite), New Kingston and the band's own,
Maad TRay and lead guitarist Gonzo. Tribal Seeds have toured throughout the United States, and have also performed in Mexico,
Guam & Aruba. They have shared the stage with artists such as Dave Matthews Band, Jack
White, Red Hot Chili Peppers, Jane's Addiction, Skrillex, MGMT, Cee Lo Green, Jason Mraz,
Matisyahu, Sublime with Rome, Taking Back Sunday, O.A.R., Pretty Lights, Steel Pulse, The
Wailers, Pepper, Collie Buddz, Julian Marley, Stephen Marley, Gregory Isaacs, SOJA,
Rebelution, and many more.
The Elovaters
The Elovaters are one of the fastest rising groups in the American reggae scene. It's an ascension that's come through constant touring in support of acts like Stick Figure, Pepper and Ziggy Marley to eventually headlining clubs throughout the country. In 2020, the group's monthly Spotify listeners grew 606%. It would be a high watermark that kept the group in good spirits despite having to spend over a year off the road.